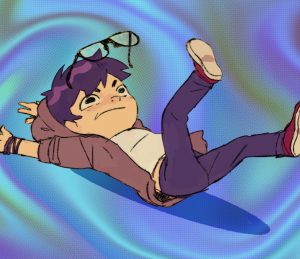 ● Q: When did you first realize that you wanted to work in animation?
○ I always had a love for animated shows and movies growing up, but I wouldn't necessarily say I knew I wanted to work in animation until much later in life. All I knew is that I wanted to do SOMETHING creative. Once I learned what went into the production of animation, I fell in love with it and quickly found my niche in storyboarding.
● Q: Who is your biggest inspiration?
○ There's a bunch of artists I admire, a lot of my coworkers inspire me so much every day because they're incredible! However, my biggest inspiration would have to be my older sister, Anna. She was always very encouraging when I was younger and helped me gain the confidence to follow my passion.
● Q: What is your favorite animated movie/show?
○ That's a tough one. For animated movie(s) it would have to be Iron Giant, Into the Spiderverse, and Spirited Away. For shows I have too many to name my favorites BUT right now I've been enjoying Jujutsu Kaisen, Owl House, and Amphibia.
● Q: What would you say to those who are not getting hired by a studio or having trouble
finding a job?
○ It's difficult because it really depends on the person and what you're looking for. Getting a job in animation is very dependent on luck as well as skill. Try to be patient with yourself, stay motivated, and try not to take rejection personally. Rejection is HARD, it hurts, but try your best not to let it get you down. Also make art for yourself that makes you happy if you can. My biggest piece of advice is: – Set a goal for a studio/genre you want to work in. -Check out the artists that work for that studio/ that kind of genre (If you can find their portfolios, check them out!). -Try to cater your portfolio specifically for the job you want and the style of your target genre/studio.
● Q: What are some stories of your path to art and animation?
○ While I was job hunting and finishing my portfolio, I saw an opening for a company I wanted to work for. I had been shot down many times, but I figured I would use it as an excuse to get my portfolio done and my website cleaned up. By the time I applied it was kinda late, and I ended up not getting the job. I was a little sad, but I got a lot done, so I was happy with that. Then about 2 weeks later I saw a post for a storyboard artist at Powerhouse, and since I had everything I needed, I applied immediately. And next thing I knew I moving to Austin~
● Q: What type of equipment/software do you work on?
○ I use my XP-Pen tablet for work mostly with Storyboard Pro along with Blender. For personal art and comics, I use Clip Studio Paint (Could not recommend the program enough, it's SOOO GOOD), and I also have been working on my iPad Pro and Procreate too.
● Q: Any educational advice/sources you'd like to share? Books, websites, blogs, videos…
○ One of the most useful resources that helped with putting together my portfolio was Steve Ahn's action storyboarding workshop. It's super helpful if you know the fundamentals but need to hone your skills. Also! Just a generally good anatomy resource I've been enjoying is the MORPHO series. www.youtube.com/user/JohnSilvaart/videos
● Q: What is the best part about your job and working at Powerhouse?
○ It's been said before but it's TRUE: The people. I love my coworkers so much. Easily the best part of working here. They're all so insanely talented and I feel so lucky to be able to be on a team with them.
● Q: What is your favorite Powerhouse Project that you've worked on?
○ I am REALLY enjoying working on Skull Island, though I can't say too much about it yet (shakes fist at NDAs). But I'm having a blast!!
● Q: Most challenging part of working at Powerhouse?
○ Not too much, aside from some of the challenges with having to adept to fast-changing schedules and last-minute notes at times.
● Q: Any cool little known facts about production (funny stories/cool animation tricks/etc)?
○ During production for MOTU we made some hilarious memes/drawings and it was amazing.
● Q: If you could be any anime/cartoon character who would it be and why?
○ Ginko from Mushishi. Love how chill and sweet he is~ Really enjoy the idea of just traveling around and having these magical (at times terrifying) encounters.
Artists Link: httphttps://www.sarandersonart.com/
Social Media Handles: Twitter, Instagram , Tumblr – @cherryspliced