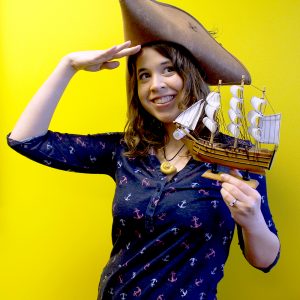 ● Q: When did you first realize that you wanted to work in animation?
○ I've loved drawing and storytelling since I was very young, and I've always been inspired by animated movies, especially 2D Disney movies. I really took animation as a career seriously in high school, after seeing Treasure Planet in theaters, which reminded me how much I loved the magic of drawn characters becoming relatable and "alive" to audiences.
● Q: Who is your biggest inspiration?
○ My standard answer has always been ye olde titans of Disney animation, like the Nine Old Men, Glen Keane, Mark Henn, Sergio Pablos, Andreas Deja, and so many more. They definitely have left their mark, but my day-to-day inspiration has become all the people I've met at Powerhouse, I'm lucky they let me hang around. I work in the Boutique Department, and even though Boutique might not get the spotlight often, I'm impressed on a regular basis by the artists in this department.
● Q: What is your favorite animated movie/show?
○ Treasure Planet, Little Mermaid, Beauty and the Beast. Thanks to friends I've been introduced to more anime shows like Fullmetal Alchemist, HunterxHunter, and Sailor Moon, which I realized was something missing in my life. I also really admire Avatar: The Last Airbender and Legend of Korra.
● Q: What would you say to those who are not getting hired by a studio or having trouble
finding a job?
○ There have been so many good answers for this question by featured artists before me. The only advice I can add is to not lose your joy for making your art. Having trouble finding a job can be a massive discouragement, and I know from my own experience that it's tempting to try to create art based on what you think studios or Twitter wants to see. While it's a good thing to push yourself and explore, don't chase something that doesn't make you happy. Don't lose your voice. When you love your art, other people will love it too.
● Q: What are some stories of your path to art and animation?
○ When I was a senior in college, Mark Henn came to the Times Square Disney Store to do a signing for the release of the Animators' Collection line of dolls. I leaped at the opportunity to get a signature from one of my favorite animators, and did a small drawing to give him with a note to tell him he was one of my heroes. When I finally got to him in line, though, I was so nervous that I rattled out my sappy spiel, gave him the note, grabbed my signed doll, and sped away before he could say anything. Instead of me creating a Deanna-shaped hole in the Disney Store wall, though, a store attendant caught me and asked me to come back, at which point Mark Henn gave me his business card. I absolutely treasure that card, but I never had the courage to correspond with him. I hope he's kept my note somewhere, at least, and every once in a while snickers at the fangirl who ran away from him.
● Q: What type of equipment/software do you work on?
○ At Powerhouse I primarily work in Toon Boom Harmony on a Wacom Cintiq. I also use Photoshop to draw when I'm not animating.
● Q: Any educational advice/sources you'd like to share? Books, websites, blogs, videos…
○ Some of the best advice I was given when I was pursuing animation as a kid was to learn how to draw. This may seem obvious, but many kids can fall into the trap of trying to only draw in their favorite cartoon style without learning the basics of draftsmanship. Understanding form, shape language, figure drawing, etc will elevate your art.
● Q: What is the best part about your job and working at Powerhouse?
○ There are many things I'm thankful for working at Powerhouse, but one of the most significant things is the people I work with. I've made important friends here, and it's a privilege to be able to collaborate with not only talented artists, but genuinely wonderful people.
● Q: What is your favorite Powerhouse Project that you've worked on?
○ I work in Powerhouse's Boutique department, which focuses on lots of different short-form projects like video game trailers and/or cutscenes, music videos, commercials, and other client work. Some of my favorite projects have been the Pleasure Tales for Magnum Ice Cream short films, the Wayforward Spidersaurs trailer, and the Jello Apocalypse/Brendan Blaber Epithet Erased trailer. I've also worked on Battle Chasers: Nightwar, Banner Saga, Agents of Mayhem, and some Castlevania.
● Q: Most challenging part of working at Powerhouse?
○ Working in the Boutique Department, we get different projects of all kinds and it can be fast-paced. Each project requires a different look in terms of character design and animation style, so it's a great challenge to meet the requirements every time and within schedule.
● Q: Any cool little known facts about production (funny stories/cool animation tricks/etc)?
○ One of the Boutique animators roughed an incidental character into the background of one of his scenes which made it all the way to final character design, only to be left on the cutting room floor. By that time the whole department was a fan of this incidental, though, and ever since we have tried to sneak his likeness into scenes spanning several projects.
● Q: If you could be any anime/cartoon character who would it be and why?
○ I'd have to say Usagi Tsukino. She's an imperfect hero, a crybaby, a little air-headed, and a little incapable at times. But when it counts, her friendship and compassion saves the day the only way she can.
Social Media Handles: Twitter – @DeannaTrudeau  Instagram: @Deannerbug