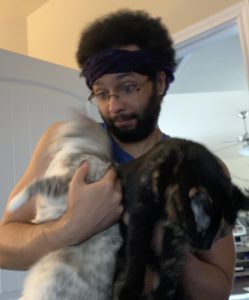 ● Q: When did you first realize that you wanted to work in animation?
○ Never occured to me that I could if I'm being honest haha. The fact that my 3D career led me to working at one of my fave animation studios still sort of flabbergasted me. My grandma always joked when I was little I'd work on "ANI-MAYS" one day because of how much manga and anime I consumed. I'm now confident she has psychic powers she never told me about.
● Q: Who is your biggest inspiration?
○ All the amazing people I've been lucky enough to meet throughout my life. My beautiful wife steph, Amazing artist I strive to reach/close friends Jose, Lauren,Christian, and of course all the awesome PHA people. I personally would never have reached this point if not for all them and my family's support.
● Q: What is your favorite animated movie/show?
○ Too hard to say just one haha. Top Six off top of head(maybe) – Summer Wars, Grimgar of Fantasy and Ash, DBZ, Steins Gate, No Game No Life, Jujutsu Kaisen
● Q: What would you say to those who are not getting hired by a studio or having trouble
finding a job?
○ There is sadly no one true answer to this conundrum since it varies so widely with circumstances sadly. However, based on my own experience here are some tips.
*Take breaks – This goes especially for anyone working on art test or portfolio stuff. Mental health is super important when applying and working towards something.
*Seek feedback – It's very easy to get in the mindset of putting your head down and cranking out more and more pieces to try and look appealing to clients. However, often times in
my experience and being part of the hiring process myself it's much more appealing to have 2-3 curated pieces that have gone through feedback loops. You will learn far more
through the back and forth process and end up with a stronger piece by the end.
*Work on what you enjoy – It's important to try and curate your portfolio to wherever you are seeking work from, but do not sacrifice your own enjoyment to do so. I've always
noticed a huge difference working on something I'm really passionate about versus something I feel I must do.
● Q: What are some stories of your path to art and animation?
○ I spent so long thinking about this question, and could only recount myself sitting in a computer room in highschool. Randomly deciding to do an art career(with no prior experience whatsoever).
Cause I liked video games… The rest is sort of a blur haha. Passion of what I enjoyed is what propelled me on my path in life.
● Q: What type of equipment/software do you work on?
○ I use an array of different softwares for 3D stuff. Blender, Zbrush, Substance, Photoshop, Rizom, and then I'll experiment with other stuff here and there depending on what i'm doing.
My working computer has a GeForce GTX 1660 Super, 6 core processor, and 32 Ram. I also use an old old wacom tablet.
● Q: Any educational advice/sources you'd like to share? Books, websites, blogs, videos…
○ The internet has so much nowadays in terms of 3D teaching. Some of my fave tutorial peeps/sites are
Michael Pavlovich – Zbrush wizard – https://www.youtube.com/c/MichaelPavlovich/featured
Blender Guru – Great beginning model tutorials – https://www.youtube.com/user/AndrewPPrice
The CG Essentials – Has some good Blender stuff – https://www.youtube.com/c/TheCGEssentials/featured
Flipped Normals – Cover a lot of 3D topics – https://www.youtube.com/c/FlippedNormals/featured
● Q: What is the best part about your job and working at Powerhouse?
○ The people. Everyone is so talented and awesome. I'm in awe most days drooling at peoples art.
● Q: What is your favorite Powerhouse Project that you've worked on?
○ Each show has a special something that I've enjoyed from being a part of, but at the moment I'm probably most excited for my current one. Im working on the new Castlevania series as
lead 3D artist. Been a huge fan of the show since it first aired, and it's one of my fave animated shows. So happy Ill be able to contribute to it in a bigger way.
● Q: Most challenging part of working at Powerhouse?
○ Because of all the awesome talent here I often get imposter syndrome haha.
● Q: Any cool little known facts about production (funny stories/cool animation tricks/etc)?
○ When we were still working full time in-house me and another co-worker/friend Ryan played a silent game with no rules established. We would just make eye contact walking down hall
sometimes and just know the game was afoot. Activities ranged from me catching him in my arms as he jumped towards me, playing spontaneous tag and chasing each other, or dancing.
Very few have witnessed our weird ritual in the studio and were always so confused if they did haha. One of the many bonds I cherish and established with so many of the other
weirdos at our studio.
● Q: If you could be any anime/cartoon character who would it be and why?
○ Rimuru from That time I got reincarnated as a slime. The ability to shapeshift just seems so rad, and I think slimes are adorable.
Artists Link: http://www.markadamscraft.com/
https://www.artstation.com/markthenerd
Social Media Handles: Twitter: @markadamscraft