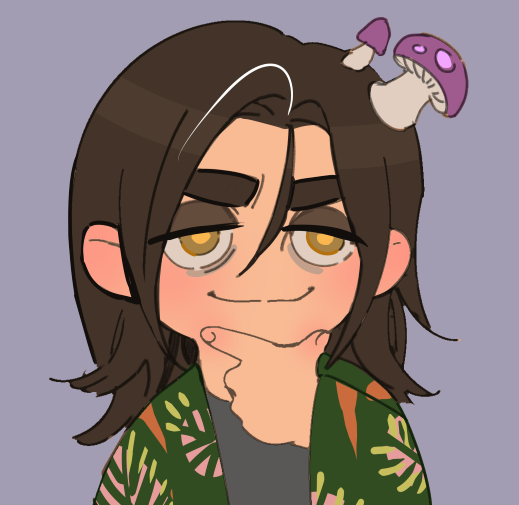 ● Q: When did you first realize that you wanted to work in animation?
○ Always wanted to work in animation, I've always loved the medium. My grandmother took me to see Spirited Away when it came to theatres and it really solidified my want to work in the entertainment industry. While animation was not initially what I intended to go into, I love it all the same.
● Q: Who is your biggest inspiration?
○ My aforementioned grandmother! She was an artist herself, and while she never understood the digital medium, she always encouraged what I did. I also have an incredible set of talented friends and colleagues that are SO intensely passionate about animation– it's hard NOT to be inspired.
● Q: What is your favorite animated movie/show?
○ Mononoke (not the princess, but I love her too), Mob Psycho 100, Dragonball was a huuuge influence as a kid. I also rediscovered my love for Porco Rosso recently. There are so many…
● Q: What would you say to those who are not getting hired by a studio or having trouble
finding a job?
○ Try not to get disheartened, and play to your strengths. Sometimes things may take a little longer than you expect, and sometimes opportunities come out of nowhere. Get to know the process your fav studio uses if you can, and do your best to apply yourself to be what they need in your field of work. If you're currently not where you want to be, try to find someplace that will give you skills to get where you want to be.
● Q: What are some stories of your path to art and animation?
○ I was actually talked out of doing outright animation during college, and I ended up going to school for game character design. I worked freelance for years, and then finally found my place at Powerhouse! I've bounced around plenty of mediums. I even worked in orthodontia for a couple years.
● Q: What type of equipment/software do you work on?
○ A Cintiq and mostly Clip Studio Paint! I sometimes touch Photoshop now and again, but it's mostly CSP!
● Q: Any educational advice/sources you'd like to share? Books, websites, blogs, videos…
○ Character Design References, the Proko channel, the Morpho books… I have so many. The internet is an AMAZING place for learning. I think one of the most valuable things you can teach yourself/learn is how to research. There are so many things on the internet that are EXACTLY what you need to know– knowing your way around google, what search terms you need, the databases that exist! Make use of them, and with enough time, you can absorb any knowledge you put your mind to.
● Q: What is the best part about your job and working at Powerhouse?
○ I've never worked so closely with so many of my friends, who are wonderful, hard working people. Everyone here is absolute gigantic fans of everything they touch. Being able to turn to a friend and say, "Hey, this is going to look RAD," and everyone is totally on the same page.
● Q: What is your favorite Powerhouse Project that you've worked on?
○ It was an absolute blessing to work on Castlevania, it's what drew me to Powerhouse to begin with! I'm a GIGANTIC game nerd.
● Q: Most challenging part of working at Powerhouse?
○ I think the move was the most difficult for me! I grew up in California, so dropping everything to come out to Austin, TX threw me for a bit of a loop, but Austin is amazing, it didn't take too long to adjust!
● Q: Any cool little known facts about production (funny stories/cool animation tricks/etc)?
○ I don't think there were many shots of Apollo (Blood of Zeus) that didn't get ab-checked by me. It was a hard job but someone had to do it.
● Q: If you could be any anime/cartoon character who would it be and why?
○ That one big cat in a Cat Returns. I admire his big angry lazy energy. Can I grow to be like twice the size of anyone I meet and block passageways like a Snorlax? That's my dream.
Artists Link: https://twitter.com/kakimari
Social Media Handles: @kakimari on twitter, artstation, insta.